Welcome : Morecambe Drain Specialists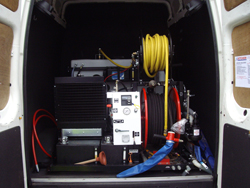 All Clear Drains is a well established family run business which operates primarily from the Morecambe and Heysham area covering the whole of the North West, South Lakes and the Cumbria District. All Clear Drains are willing to travel to most Lancastrian locations dependant on the type of job required.
Where we cannot attend to undertake work we will be able to provide you with one of our accredited affiliates that we will contact on your behalf and who will come and look at the job and offer a free quotation.
We are reputed as a friendly, family run company and pride ourselves on being approachable even to none clients; so feel free to call us for some advice, and if possible we would be more than happy to point you in the right direction.
As we are not franchised or a national company our pricing structure is very competitive be it a private or a business customer. We provide services in all sectors including; domestic, commercial and for industrial clients alike.
Our 24hr call out means that no matter when, we can offer rapid response 7 days a week and we offer on going maintenance plans so that nasty accidents become a thing of the past, saving you time and money.
Our services also include insurance claims and surveys for home buyers.
We have recently been contracted by many national businesses and brewery's including household names like:-

JJB: Called out due to blocked drains both in the Morecambe and Barrow area.The blocks were removed during closing times so not to affect customers.

Sainsbury's: Conducted CCTV Surveys and High Pressure Jetting in the Lancaster branch. Also performed dye and drain tracing and location of drains through radio detection.
Other customers include:
William Hill, Ladbrokes, Home For Pets, View Cinema, Netto, Edmondsons Haulage, West Coast Builders plus many more.